When Live Cell Imaging System Becomes Smaller, Smarter, and More Affordable
The live cell imaging systems have become smaller and smarter by leveraging new technologies, which allows researchers to observe their cells in real time and remotely over the internet, and generate their results with time-lapse images or videos and automatically created data.
What is a Live Cell Imaging System?
A live cell imaging system (cell imager) combines an imaging unit and cell culture device so as to keep cells alive in the course of assay and provides vivid recording of how the cells interact or react to external stimuli under set experimental parameters, thus enabling scientists to conduct studies with precise results and clear presentation in an efficient workflow, which they could hardly have hoped to achieve before.
The new trends in live cell imaging include technologies to allow researchers to observe their cells in real time and remotely over the internet, and generate their results with time-lapse images or videos and automatically created data.
Applications ushered by live cell imaging
These new developments have unfolded the possibility of many new scientists in traditional or new burgeoning areas, from basic biological/biochemical research such as cell migration, cell confluence and wound healing, to tumor cell formation studies and stem cell research, many of which may usher in new therapies or drug-screening methods.
Blue-Ray Biotech, one of those live cell imaging producers, noted that their products have also been used in cutting-edge applications. The fantastic results include a real-time in vitro bionic lung chip system for testing air pollution particulate matters, and a 3D tumorsphere chip for a high-throughput drug screening system.
Driven by new technologies and surging needs for drug discovery, stem cell and other cell biology research, the global live cell imaging market has quickly heated up in recent years and is expected to reach US$ 7 billion by 2022, as forecasted by RNCOS in a report released in 2018*(note).
Keeping cells alive and observing cells in real time and over time
Although prepared slides of samples reveal many details about biological specimens in a fixed state handy for analysis, nothing in biology will actually occur on a glass plane. With their traditional practices, most of the time researchers in laboratories learn about life when it is dead. However, the developments in live cell imaging techniques are turning over a new leaf in the history of microscopy and opening up a brand new world for observations and assays on living cells.
Apart from the traditional microscope which observes a snapshot of fixed cells without the ability to look at dynamic biological processes, a live cell imaging system adds an incubator to the microscopy system to keep cells alive and allows for long-term experiments on the dynamic processes of how cells translocate, interact and respond to environmental cues.
This incubator mimics the physiological conditions optimal for the cells' health so as to ensure the cells not only stay alive but remain in a metabolic state with no nonspecific changes that could possibly alter the process being observed. For example, human cells need to be cultured under an environment near and above 37°C with 5% CO2 concentration as if in a human body, along with other conditions.
Therefore, a live cell imaging system must contain basic components that fulfill the following requirements:
incubator that keeps cells alive throughout the observation process
microscope for observing the cells
imaging device that records cell images over the process
analysis software that converts quantitative image-based data into significant insights in a digital process.
Incubator-on-microscope or microscope-in-incubator
There are two methods for a microscope to incorporate a cell culture device: either building a smaller incubator onto a standard inverted microscope, or embedding a simplified microscope unit(s) into a standard CO2 incubator.
The first method—building an incubator on a microscope—is a more traditional one, which preserves the complete functions of a traditional microscope and allows for multiple illumination and camera options and also higher image quality.
However, a traditional full function microscope with an add-on specialized incubator could be very costly, and the whole unit could be occupied for days, weeks or months just for one single live-cell experiment, making it economically irrational for labs.
Price, convenience, and efficiency: those you have to consider
Therefore, embedding live cell imager(s) into your lab's existing CO2 incubator becomes a more economically viable option. By reducing microscope functions to live cell imaging and monitoring purposes, this new method seeks to strike the best balance between performance and price as well as convenience. When a standard incubator is installed with more than one live cell imagers, the researchers may conduct multiple assays concurrently, making it highly convenient for experimental designs with strictly controlled parameters in the same incubator.
A live cell imaging system to be fitted into a standard incubator provides specialized microscope units, imaging units and a control unit connecting to the internet for easy data access. Once the system is installed in an incubator, users may adjust the lens focus remotely via software without opening the incubator and creating a disturbance to the cells. Meanwhile, all images will be automatically and continually recorded day and night, and researchers may view these images in real time or later at their convenience.
EzScope provides streamlined research workflow from incubation to presentation
The Blue-Ray Biotech EzScope 101 Live Cell Imaging System is one of such products best exemplifying the up-to-date innovations of the next generation live cell imagining technology. Featuring a compact size with reinforced construction, the EzScope can be fitted into most incubators used in labs. To maximize economy and efficiency, the EzScope provides up to four units of live cell imager for a single incubator, allowing for multiple cell assays to be conducted concurrently.
Featuring motorized focusing and automatic measurement and analysis, the EzCapture software provided by EzScope allows users to build a dashboard for conveniently controlling their assays, viewing and editing images. With a single click on function menu, users may easily implement cell coverage estimation, cell growth rate determination and cell migration measurement, and turn the data into presentation-ready images and videos, including time-lapse videos which present changes in process in reduced time.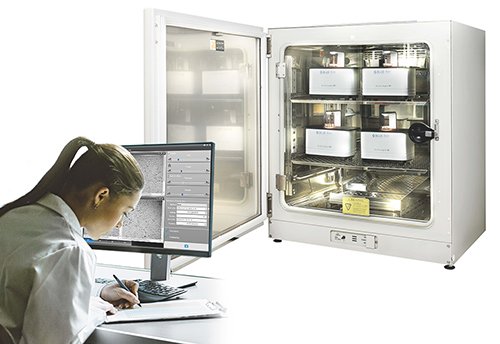 Blue-Ray Biotech EzScope 101 Live Cell Imaging System enables up to 4 samples live cell monitoring in the incubator and realizes real-time remote observation.
Automation, accuracy, speed, and ease of use: researcher's wishes
Dr. Chi Hsiang-cheng, a researcher at the Gene Regulation Laboratory of Taiwan's Chang Gung University, has used Blue-Ray's EzScope live cell imaging system in his team's study on gastric cancer. He applauded the automatic features and accurate results provided by EzScope, "The equipment can be installed easily by the user in just a few steps, and then the equipment will start to monitor cells and take pictures automatically without additional preparations." *(note 2)
"Up to four units of the live cell imager can be controlled by one computer, so we can monitor multiple groups of cells in an experiment under increased test conditions. All images of the four groups can be displayed on our notebook screen concurrently in real time." *(note 2)
Smaller yet smarter, more capable yet cheaper
To maximize convenience and economy, live cell imaging systems have become and will continue to become smaller and smarter by leveraging new technologies. More features will be developed, while affordability will still be an important factor deciding whether a technology or a category of products can become pervasive in use.
Either in basic or advanced application research, from oncology, immunology to new drug and therapy discoveries, real-time live cell imaging has been increasingly used in labs to accelerate scientific progress and improve human life.
Looking to the future, tools that can help users to more conveniently tab and track molecules and cells, to conduct assays with greater speed and throughput in lab, and to present the results in more convenient and impressive ways will be among the new trends in live cell imaging product development.
*Note:
《A Buyer's Guide to Live-Cell Imaging》

, BioCompare, 2020
---
Related Product: EzScope 101 Live Cell Imaging System