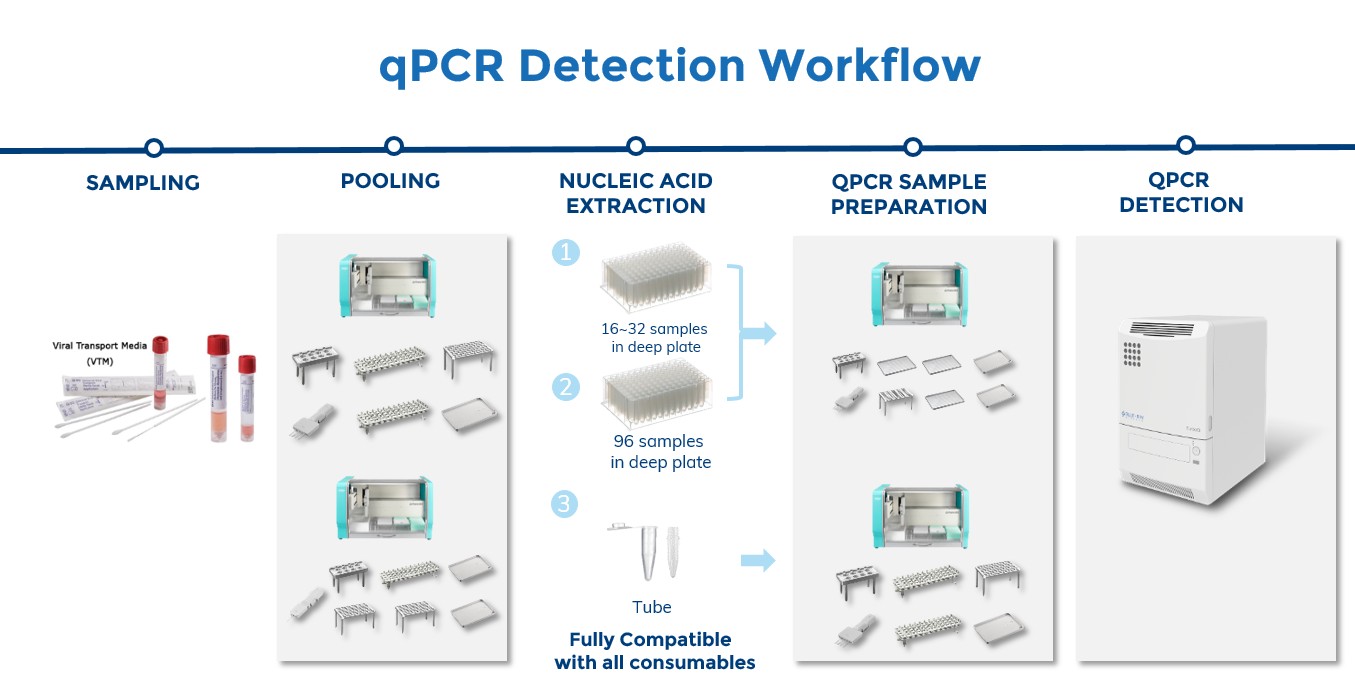 The COVID-19 pandemic continues to remain harsh. The confirmed diagnosis of COVID-19 is still based on qPCR testing. However, the sample preparation before real-time qPCR detection is complex. A large quantity of professional manpower is needed in response to a surge in screening. Therefore, in addition to being equipped with qPCR testing machines, automated pipetting systems are also needed to prepare samples to enhance testing efficiency substantively. The EzMate automated pipetting system is developed by Arise Biotech Inc., a Taiwanese company that has cultivated in the field of scientific research equipment for years. The said system has been widely applied in automated qPCR testing sample preparation, which has received evidence-based recognition from laboratories from different countries. The system also aids Taiwan in accelerating virus screening momentum.
EzMate is a series of automated pipetting systems designed for preparing medium and low volume liquid samples. It can effectively reduce complex sample preparation procedures and avoid manual operation errors. Since it is compatible with most consumables available in the market, the samples after nucleic acid extraction can be seamlessly fit into the process of qPCR sample preparation stage. During the process, consumables need not be replaced, thereby reducing contamination and accelerating sample preparation.
In the face of the sudden COVID-19 pandemic, Arise Biotech Inc. has brought out the advantages of EzMate in response to different needs and provide customized services. The company has successfully provided assistance to multiple testing laboratories in Europe, Southeast Asia, Northeast Asia, Middle East, South America, and Greater China regions to optimize qPCR sample preparation processes.
Well-known EzMate COVID-19 application cases include the P-BEST Pooling Test technique proposed by scientists from Israel intended to substantively improve COVID-19 detection. In order to reduce the quantity of testing, P-BEST adopts the pooling design. At the same time, by identifying the optimization strategy for the combination of positive individuals, each sample is placed in multiple pools after dilution. When any pool shows positive reactions after testing, no additional testing phases are needed to identify which pool shows positive reactions through the detection algorithm. The strategy not only reduces testing costs and substantively improves efficiency, but it has also been approved by the Israel Ministry of Health to be used clinically. EzMate Automated Pipetting System is responsible for complex pooling sample preparation in the research.
Related Application Note:

Efficient qPCR Sample and Pool Testing Preparation for COVID-19 Detection Using EzMate Automated Pipetting System
Arise Biotech Inc. has, since its establishment in 2002, focused on the research and development of innovative and high-quality life science instruments and consumables. Multiple molecular and cell biology research instruments have been launched, which have been released globally with owned brand "Blue-Ray Biotech." All the products are developed and made in Taiwan. With the ISO-13485 medical device quality management system certification that keeps tabs on products, customer satisfaction can be ensured. The company's efforts are well recognized by users. Many international academic papers have also adopted the products and the company has won the Taiwan Excellence Award three times in recent years.
Related Products for COVID-19 Application
TurboFuge High-speed Microcentrifuge
BluePette Electronic Pipette
BlueSwan Pipette Controller
EzMate Automated Pipetting System
Application Note:
Efficient qPCR Sample and Pool Testing Preparation for COVID-19 Detection Using EzMate Automated Pipetting System
Citation:
Efficient high-throughput SARS-CoV-2 testing to detect asymptomatic carriers
About Blue-Ray Biotech Corporation
Blue-Ray Biotech aims to provide global life science laboratory researchers with innovative and reliable products to further accelerate the development of biotechnology. We devote ourselves to developing, manufacturing, and marketing cutting-edge equipment that can be widely adopted.
By a perfect combination of our core competencies which are electronics and biological technology, Blue-Ray Biotech has successfully introduced superior-performance and high-quality products including PCR thermal cyclers, spectrophotometer, live cell imaging, microcentrifuge and liquid handling products.
Our company is ISO-13485 certified. Our facility can handle small quantities and diverse production methods are available to meet different customization needs.
Sales Contact (Greater China, NE Asia, SE Asia, NZ/AU)
Fred Chu
+886-2-8219-1206 # 13
Sales Contact (Europe, ROW)
Tony Chen
+886-2-8219-1206 # 33
Media Contact
Boruei Huang
+886-2-8219-1206 # 14