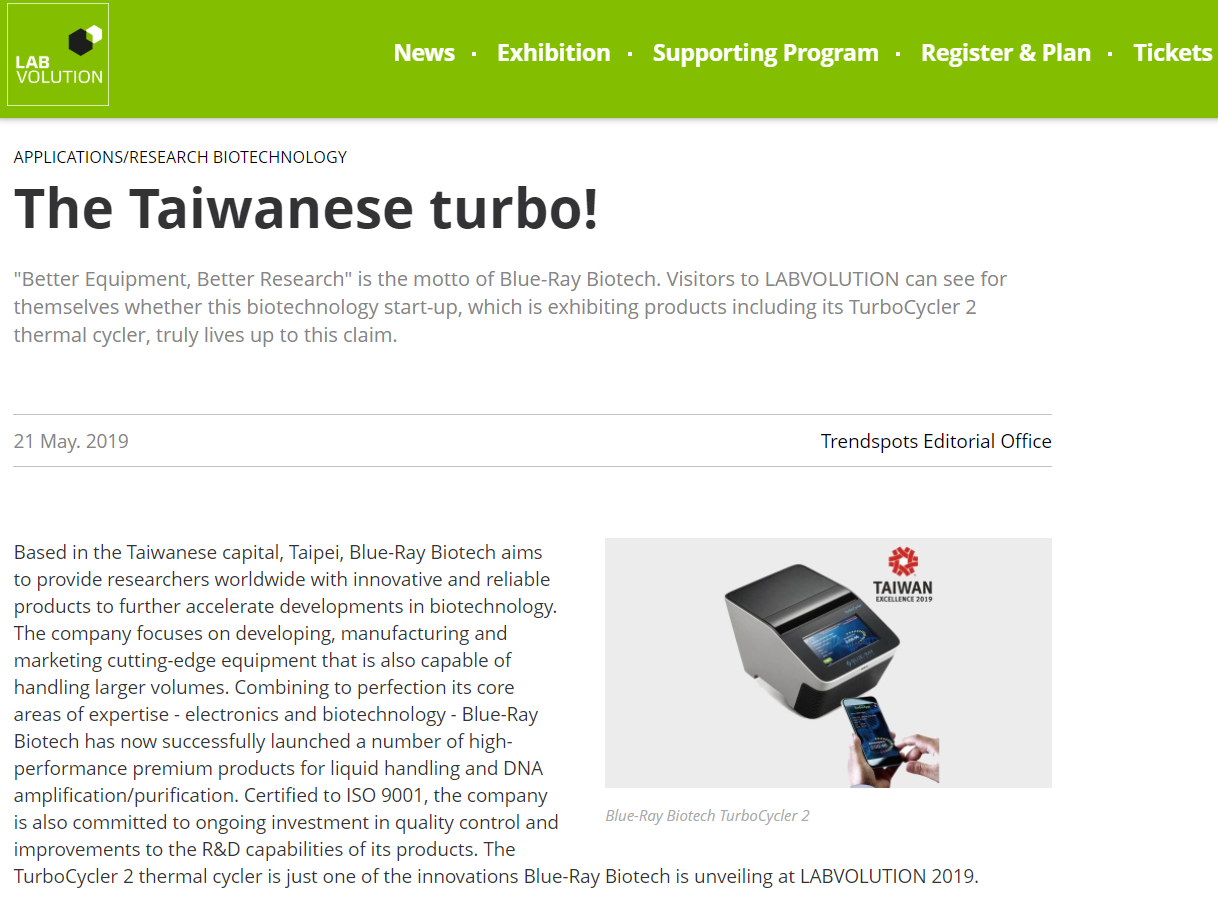 It is our honor to share with you that TurboCycler 2 was chosen as a featured product of LABVOLUTION 2019 and it was once shown on the homepage of tradeshow website.

TurboCycler 2 was named a winner for "Taiwan Excellence 2019" which proves our effort in product quality, service, distribution channel development, and brand awareness.
Read the Coverage:https://www.labvolution.de/en/news/article/the-taiwanese-turbo.xhtml
Video:
Gain a quick view of Blue-Ray Biotech's lab product portfolio in LABVOLUTION 2019, including TurboCycler PCR thermal cycler series, EzScope live cell imaging system, TurboFuge microcentrifuge, BlueSwan pipette controller and BluePette electronic pipettes.
About Blue-Ray Biotech Corporation
Blue-Ray Biotech aims to provide global life science laboratory researchers with innovative and reliable products to further accelerate the development of biotechnology. We devote ourselves to developing, manufacturing, and marketing cutting-edge equipment that can be widely adopted.
By a perfect combination of our core competencies which are electronics and biological technology, Blue-Ray Biotech has successfully introduced superior-performance and high-quality products including PCR thermal cyclers, spectrophotometer, live cell imaging, microcentrifuge and liquid handling products.
Our company is ISO-13485 certified. Our facility can handle small quantities and diverse production methods are available to meet different customization needs.
Sales Contact (Greater China, NE Asia, SE Asia, NZ/AU)
Fred Chu
+886-2-8219-1206 # 13
Sales Contact (Europe, ROW)
Tony Chen
+886-2-8219-1206 # 33
Media Contact
Boruei Huang
+886-2-8219-1206 # 14