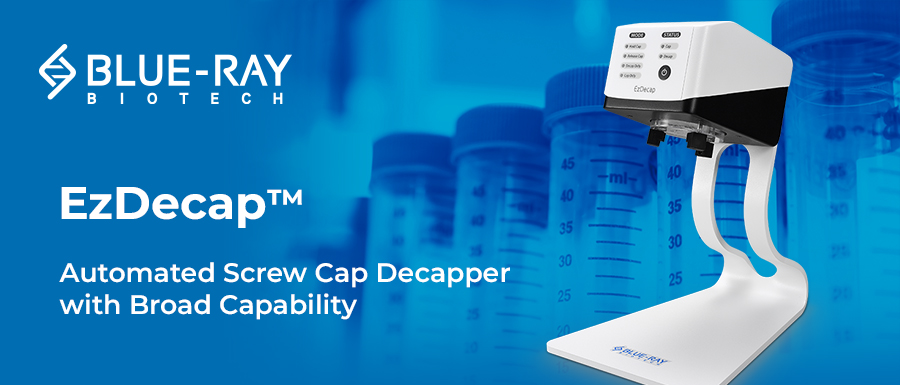 Blue-Ray Biotech, a professional developer and manufacturer of life science products, has introduced EzDecap Automated Screw Cap Decapper, an innovative, affordable solution designed to streamline sample tube cap handling across a wide range of applications, from cryotubes to 50 ml centrifuge tubes. With patent-pending technology, the EzDecap enables practical one-handed automation, reducing cap dropping errors and enhancing efficiency. It offers versatile operation modes to address various tube handling needs, and its compact design is well-suited for both biosafety cabinets and bench-top operation.
Efficiency Made Easy
"Many labs deal with repetitive manual tube capping and decapping workloads, often leading to fatigue and posing injury risks." said Kay Chang, Product Manager at Blue-Ray Biotech. The EzDecap, with its patent-pending technology, offers a practical solution by automating these operations, enabling one-handed capping and decapping in a single device. After decapping, the caps can be securely held within the device to prevent cap dropping errors. This not only enhances efficiency but also reduces the chance of contamination, making it ideal for daily high-volume routines.
Versatility for Every Lab
The EzDecap handles different tube types, from cryotubes to 50 ml centrifuge tubes, without the need to change cap grippers. It offers versatile operation modes, performing both capping and decapping functions, making it suitable for any laboratory. Furthermore, its compact design ensures it fits easily into biosafety cabinets and workbenches, optimizing space.
"Our vision with EzDecap is to optimize the tube cap handling process and make it accessible to every lab at an affordable price. Researchers can now eliminate manual decapping workloads with ease." said James Lo, the inventor of EzDecap and General Manager at Blue-Ray Biotech.
For more information on the EzDecap Automated Screw Cap Decapper, please visit
https://www.blue-raybio.com/en/category/product/EzDecap-Automated-Screw-Cap-Decapper
About Blue-Ray Biotech Corporation
Blue-Ray Biotech is a company dedicated to providing innovative and reliable products for life science laboratory researchers around the world, with the goal of accelerating the development of biotechnology. Our focus is on developing, manufacturing, and marketing cutting-edge equipment that can be widely adopted.
With a perfect combination of core competencies in electronics and biological technology, Blue-Ray Biotech has successfully introduced a range of superior-performance and high-quality products, including PCR and qPCR thermal cyclers, UV/Vis spectrophotometers, live cell imaging systems, microcentrifuges, and liquid handling products.
Sales Contact (Taiwan, Europe, ROW)
Tony Chen
+886-2-8219-1206 # 133
Sales Contact (US, Greater China, NE Asia, SE Asia, NZ/AU)
Andrew Lin
+886-2-8219-1206 # 104
andrew.lin@blue-raybio.com
Media Contact
Boruei Huang
+886-2-8219-1206 # 107