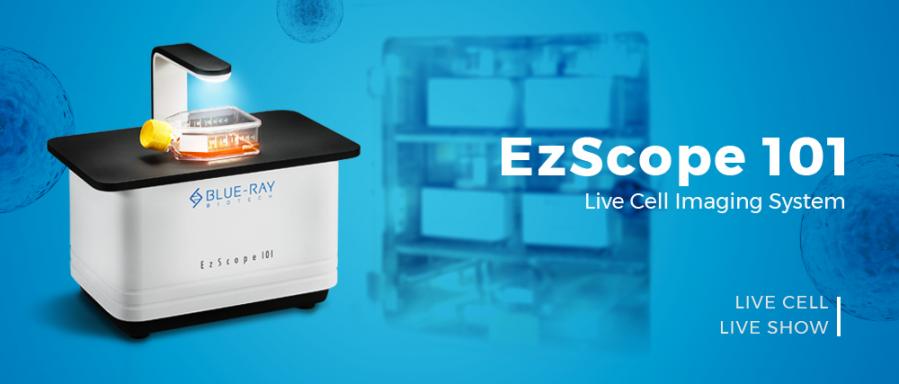 Blue-Ray Biotech Corporation, a professional biotech instrument manufacturer, releases its innovative live cell imaging system, the EzScope 101. Based on the microscope in an incubator concept, the system enables researchers to observe cells in real time and over time without removing cells from the incubator. Its exceptional image quality perfectly meets the needs of cell imaging and time-lapse recording. The EzScope 101 helps streamline live cell research workflow with improved efficiency and productivity.
Incubator Live View
While cell samples are placed in a CO2 incubator so that they can be kept alive for long-term experiments, how to observe the cells in real time and over time has always been a concern. Featuring a compact size with reinforced construction, the EzScope 101 can fit into almost all CO2 incubators. It allows for connection of up to 4 units of devices in the same incubator, allowing for simultaneous multiple cell experiments monitoring with precisely controlled conditions, and thus substantially reduces errors caused by environmental variations.
Exceptional Image Quality
The EzScope 101 adopts a high contract brightfield optical configuration, providing high-quality images at affordable prices. Though most microscope-in-incubator imaging systems allow for rather low expandability, the EzScope 101 still manages to improve flexibility by providing two exchangeable lenses (10x, 20x). In addition, the EzScope 101 is one of the rare products on the market which comes with a motorized focusing feature so that users can remotely adjust the lens focus of the systems in incubators via a software-enabled dashboard installed on the computer.
Easy Image Editing
The EzScope comes with easy-to-use software, EzCapture. EzCapture not only allows users to build a dashboard for viewing and editing cells images, but also provides functions for analyzing results acquired by the cell-imaging device. With a single click on the function menu, users may easily implement cell coverage estimation, cell growth rate determination, and cell migration measurement, which are often applied in assays for wound healing, stem cell behaviors, and intra-vital studies.
Remote Monitoring of Experiment
Since EzCapture is based on a WINDOWS operating system, it is compatible with several third-party remote monitoring applications. Researchers may view the cell images in the lab or elsewhere, enjoying walk-away convenience and improved productivity.
Meet EzScope at LABVOLUTION 2019
The EzScope will be exhibited at Blue-Ray Biotech's booth at Labvolution 2019. Visit the booth and learn more about the EzScope and other Blue-Ray Biotech products.
Booth Information:
Date: May 21-23, 2019
Location: Hannover Exhibition Center
Booth: Hall 20, Stand C15
Contact Blue-Ray Biotech: sales@blue-raybio.com
Labvolution Official Site: https://www.labvolution.de/home
About Blue-Ray Biotech Corporation
"Better Equipment, Better Research"
Blue-Ray Biotech aims to provide global biotechnology researchers with innovative and reliable products to further accelerate the development of biotechnology. We devote ourselves to developing, manufacturing, and marketing cutting-edge equipment that can be widely adopted.
By a perfect combination of our core competencies which are electronics and biological technology, we have successfully introduced superior-performance and high-quality products for liquid handling and DNA amplification. Our product lines include PCR thermal cycler, pipette controller and micro-centrifuge.
Our company is ISO-9001&ISO-13485 certified. Our facility can handle small quantities and diverse production methods are available to meet different customization needs.
---

Contact
Sales Contact (Greater China, NE Asia, SE Asia, NZ/AU)
Fred Chu
+886-2-8219-1206 # 13
fred.chu@blue-raybio.com

Sales Contact (Europe, ROW)
Tony Chen
+886-2-8219-1206 # 33
tony.chen@blue-raybio.com
Media Contact
Boruei Huang
+886-2-8219-1206 # 14
boruei.huang@blue-raybio.com