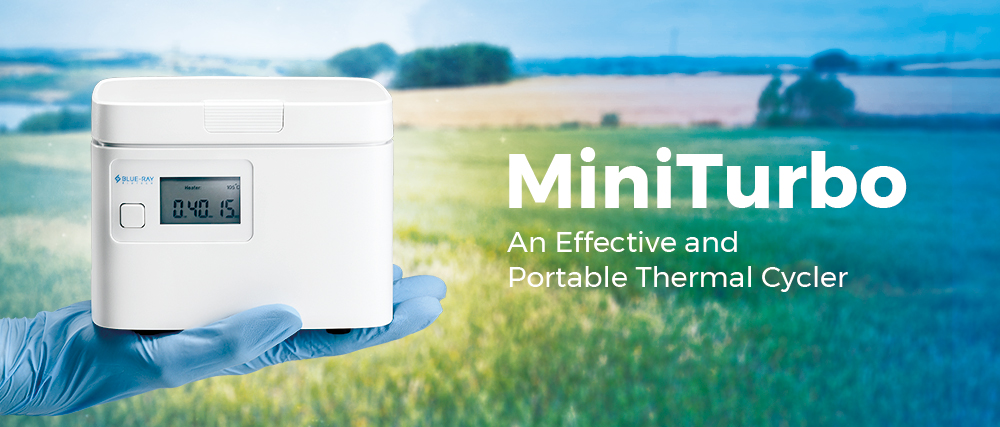 Blue-Ray Biotech Corporation, a professional biotech instrument manufacturer, introduces a new thermal cycler, the MiniTurbo, into its PCR products family. Featuring high portability and compactness, openness, and usability, the MiniTurbo is the ideal choice for researchers who need to proceed PCR immediately after samples collection. With outstanding functionality, the cycler provides the same performance as conventional benchtop thermal cyclers in the market. Its applications range from regular PCR, reverse transcription PCR, to incubation. These features make the MiniTurbo widely applicable for use in the field, laboratories and classrooms.
Outstanding Functionality
Based on the Peltier temperature cycling technology, the MiniTurbo thermal cycler provides excellent accuracy and uniformity at +/- 0.4 °C along with fast ramp rate, delivering the comparable quality results as conventional benchtop thermal cyclers in the market.
Portable and Compact
The MiniTurbo is extremely light in weight and compact in size. The unit (without power adapter) is 1 kg and its dimensions are only 104 mm x 136 mm x 102 mm. With the features, it can be easily carried from place to place.
Open System
Openness is extremely important for filed and educational applications. The open system design makes the MiniTurbo can be programmed easily and freely.
User Friendly
In addition, its operation is easy and convenient due to the all-in-one button design. The feature greatly reduces the learning curve for users.
Blue-Ray Biotech has over 14 years of experience in thermal cyclers and offers a wide variety of models to satisfy different research needs.
For more information, please visit
About Blue-Ray Biotech Corporation
"Better Equipment, Better Research"
Blue-Ray Biotech aims to provide global biotechnology researchers with innovative and reliable products to further accelerate the development of biotechnology. We devote ourselves to developing, manufacturing, and marketing cutting-edge equipment that can be widely adopted.
By a perfect combination of our core competencies which are electronics and biological technology, we have successfully introduced superior-performance and high-quality products for liquid handling and DNA amplification. Our product lines include PCR thermal cycler, pipette controller and micro-centrifuge.
Our company is ISO-9001&ISO-13485 certified. Our facility can handle small quantities and diverse production methods are available to meet different customization needs.
---
Contact
Sales Contact (Greater China, NE Asia, SE Asia, NZ/AU)
Fred Chu
+886-2-8219-1206 # 13
fred.chu@blue-raybio.com

Sales Contact (Europe, ROW)
Tony Chen
+886-2-8219-1206 # 33
tony.chen@blue-raybio.com
Media Contact
Boruei Huang
+886-2-8219-1206 # 14
boruei.huang@blue-raybio.com