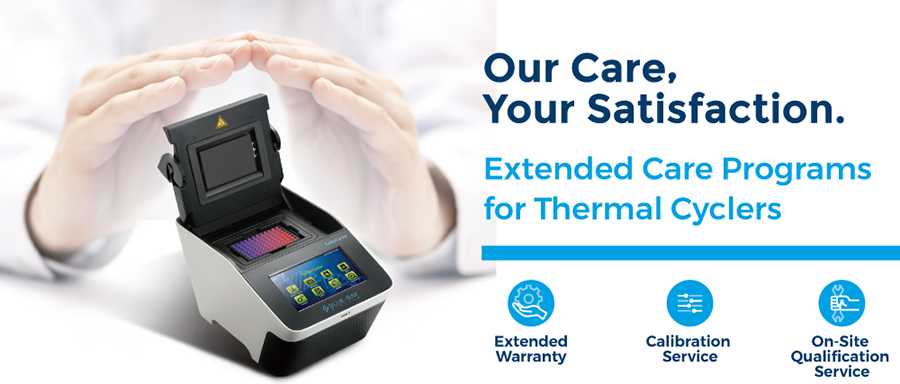 Blue-Ray Biotech Corporation, a professional biotech instrument manufacturer, announced today the new Extended Care Programs for its thermal cyclers. As part of its service expansion strategy, Blue-Ray Biotech has also introduced a thermal cycler temperature validation system, the TAS-System, into its product family.
Covering a wide range of extended warranty, calibration, and on-site qualification services, Blue-Ray Biotech's new Extended Care Programs are designed to assist users throughout the life of the instruments. Just like all thermal cyclers on the market, the performance of the heating/cooling elements used may decrease over time. Therefore, continuous monitoring of temperature variations is important. For all researches, clinical and pharmaceutical laboratories that meet ISO, GMP or other standards, annual validation and calibration of instruments are mandatory. However, there are difficulties in executing the aforementioned tasks. In order to equip its worldwide service network with superior capabilities, Blue-Ray Biotech continuously conducts in-depth technical service trainings for its distributors so that they are capable of performing excellent services and can act quickly and dependably when customers need support.
Because temperature accuracy is extremely critical for thermal cyclers, Blue-Ray Biotech has also introduced a user-friendly thermal cycler temperature validation system, the TAS-System. This system can greatly assist its distributors and professional users. "As an old saying goes, good tools are prerequisite to the successful execution of a job. Our team has been looking for tools that can help us service customers better," said Fred Chu, sales manager of Blue-Ray Biotech. He continued, "With our comprehensive study and practical experiences, we are very confident that the TAS-system is an excellent choice. That's why we have decided to distribute the product."
TAS-System is a powerful thermal cycler temperature validation system that includes a control module with integrated real-time display, probe plates accommodating fixed or variable probes, and powerful PC software. It reliably analyzes data and automatically generates reports. To maximize flexibility and portability, Blue-Ray Biotech's TAS-System offering comes with eight variable probes; To meet the increasing requests for temperature verification and validation from Blue-Ray Biotech's TurboCycler users, TAS-System is a must-have tool. Blue-Ray Biotech also provides TAS application training courses and materials to its qualified distributors.
The following are highlights of the Blue-Ray Biotech Extended Care Programs:
Extended Warranty: All Blue-Ray Biotech thermal cyclers come with a free 2-year manufacturer's warranty, which applies to repair and replacement of devices that have failed under normal operating conditions due to material or manufacturing defects. To help users protect their investment up front, the program offers up to 3 additional years at the same service level of the manufacturer's warranty. The Extended Warranty Program is available for new units only.
Calibration Service: Performing calibration requires experience and may require professional tools such as TAS-System. To relieve the burden of users, the service includes comprehensive accuracy and quality checks. Users can return their Blue-Ray thermal cyclers to our certified distributors for calibration. Complete calibration procedures will be performed if any measurement from check item is out of specification.
On-Site Qualification Service: This service aims to maximize productivity and turnaround time of instruments and to satisfy specific reporting needs. It covers Installation Qualification (IQ), Operational Qualification (OQ), and Performance Qualification (PQ). The service is performed by certified engineers. They follow standard qualification protocols and perform procedures with highly-trained knowledge and skills.