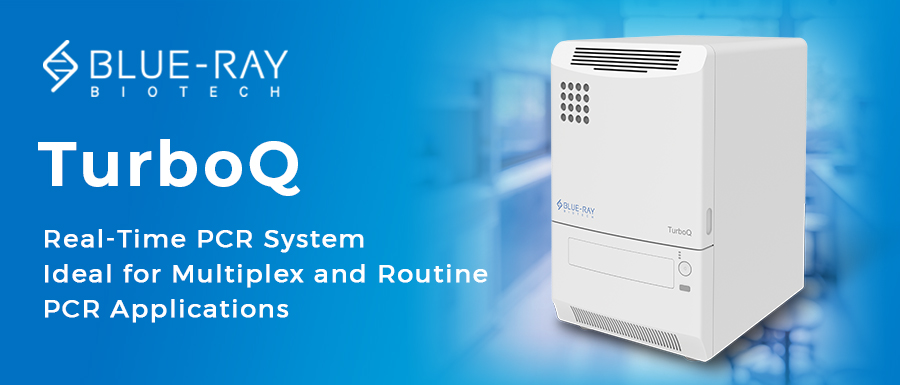 Blue-Ray Biotech Corporation, a professional PCR instrument manufacturer, today releases its real-time PCR system, the TurboQ. Designed for multiplex PCR and routine detection with versatile features, TurboQ can greatly help bio-scientists and clinical lab practitioners in performing COVID-19 diagnostic testing and researches.
Mr. Fed Chu, Sales Manager of Blue-Ray Biotech, explains why the company is releasing the product at this moment, "As a company dedicated to accelerating the development of biotechnology, we feel responsible to make a contribution in fighting the COVID-19 pandemic. As a matter of fact, we completed the development of TurboQ years ago. Since real-time PCR is currently considered a well-established methodology for analyzing COVID-19 coronavirus, it's our responsibility to make the product available to researchers."
With over a decade of success in the development of PCR instruments, Blue-Ray Biotech has released a complete line of products, ranging from mobile PCR machines, gradient thermal cyclers, to real-time PCR systems. Inheriting validated core competency, the TurboQ brings the following versatile features:
Detects up to 4 targets in one well
CCD Base Detection System:
The entire plate can be detected at the same time to eliminate the reaction time differences
Motorized Plate Carrier Tray:
Plate in/out with one simple click, enables automation integration in the future
+/- 0.25°C Block Temperature Control Accuracy:
Ensures experiment condition stability and eliminates uncertainty
Software with Complete Analysis Functions:
Functions include Absolute Quantitation, Relative Quantitation, Allelic Discrimination, and Melting Curve. No need to purchase extra analysis module.
For more information on TurboQ Real-Time PCR System, please visit
https://www.blue-raybio.com/en/category/product/TurboQ-Real-Time-PCR-System
About Blue-Ray Biotech Corporation
Blue-Ray Biotech aims to provide global life science laboratory researchers with innovative and reliable products to further accelerate the development of biotechnology. We devote ourselves to developing, manufacturing, and marketing cutting-edge equipment that can be widely adopted.
By a perfect combination of our core competencies which are electronics and biological technology, Blue-Ray Biotech has successfully introduced superior-performance and high-quality products including PCR thermal cyclers, spectrophotometer, live cell imaging, microcentrifuge and liquid handling products.
Our company is ISO-13485 certified. Our facility can handle small quantities and diverse production methods are available to meet different customization needs.
Sales Contact (Greater China, NE Asia, SE Asia, NZ/AU)
Fred Chu
+886-2-8219-1206 # 13
Sales Contact (Europe, ROW)
Tony Chen
+886-2-8219-1206 # 33
Media Contact
Boruei Huang
+886-2-8219-1206 # 14