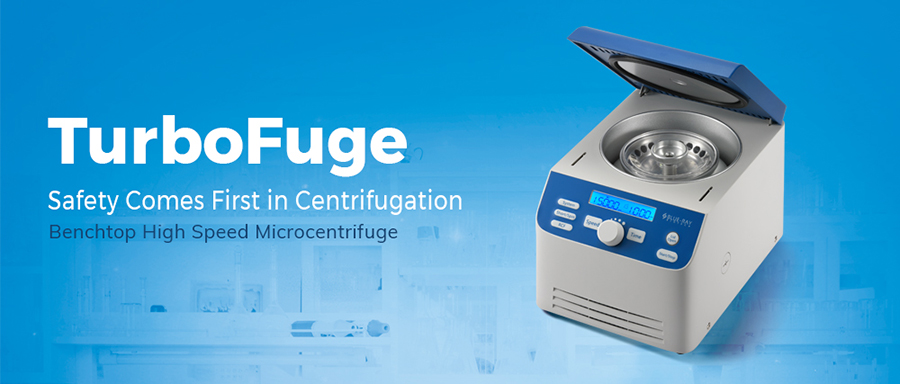 Blue-Ray Biotech Corporation, a professional bio scientific instrument manufacturer, released today the upgrade version of its TurboFuge high speed microcentrifuge, leading the market with a 36-well rotor option. It gives researchers a more flexible and efficient solution for sample separation, extraction and purification. Furthermore, TurboFuge provides users with a safer and more comfortable working environment with its multiple safety features and low-noise design. Its superior heat dissipation design suppresses temperature rise in the chamber during the centrifugation, thus increasing sensitive sample protection.
In order to improve flexibility of use, the Blue-Ray Biotech R&D team overcame design obstacles and increased the original 24-well microcentrifuge to a 36-well rotor option. It greatly improves scalability and efficiency without increasing the size of the centrifuge. "24-well and 48-well microcentrifuges are the two most popular models in the current market. When users need to increase the numbers of sample, they have to choose the latter. However, a 48-well microcentrifuge is not only more expensive but also takes up more space because of its larger size. With a design breakthrough, TurboFuge can now accommodate a 36-well rotor in a space that normally fits 24 sample tips, making it the leader in the market," said Tony Chen, sales manager of Blue-Ray Biotech.
In addition to the 36-well rotor, TurboFuge comes with more excellent features:
High Reliability and Usability
TurboFuge satisfies a wide range of applications with a maximum speed of 15,000 RPM (21,400 x g). To provide high reliability and availability, the motor and lid of the product have passed 1,500 hours of continuous run and 20,000 lid open/close cycle tests respectively. The robust design makes TurboFuge a trusted instrument for various laboratory applications.
Multiple Safety Design
Coming with a metal chamber and a metal lid option, TurboFuge effectively eliminates danger from rotor imbalance hazards. An autoclavable aluminum rotor can withstand strong acids or bases and thus ensures unlimited life cycle. The motorized dual lock ensures that the lid is safely locked during operation. The lid drop protection provides safety when loading or unloading the samples. Moreover, with the help of intelligent imbalance detection, the TurboFuge will shut off immediately when rotor imbalance is detected.
Low Noise Level
Since the lid and chamber are constructed with air-tightness design, it dramatically reduces noise and thus provides a more pleasant working environment even during high-speed centrifugation.
Improved Sample Protection
To protect sensitive samples, the enhanced ventilation design and the heat sink around the chamber are applied to reduce the temperature created during high-speed rotation. The metal lid and rotor can be autoclaved to avoid contamination of centrifugation samples.
For further information, please visit
https://www.blue-raybio.com/en/category/product/TurboFuge-Microcentrifuge
About Blue-Ray Biotech Corporation
"Better Equipment, Better Research"
Blue-Ray Biotech aims to provide global biotechnology researchers with innovative and reliable products to further accelerate the development of biotechnology. We devote ourselves to developing, manufacturing, and marketing cutting-edge equipment that can be widely adopted.
By a perfect combination of our core competencies which are electronics and biological technology, Blue-Ray Biotech has successfully introduced superior-performance and high-quality products including PCR thermal cyclers, liquid handling equipment, high-speed microcentrifuges, and live cell imaging system.
Our company is ISO-9001&ISO-13485 certified. Our facility can handle small quantities and diverse production methods are available to meet different customization needs.
Sales Contact (Greater China, NE Asia, SE Asia, NZ/AU)
Fred Chu
+886-2-8219-1206 # 13
fred.chu@blue-raybio.com

Sales Contact (Europe, ROW)
Tony Chen
+886-2-8219-1206 # 33
tony.chen@blue-raybio.com
Media Contact
Boruei Huang
+886-2-8219-1206 # 14
boruei.huang@blue-raybio.com