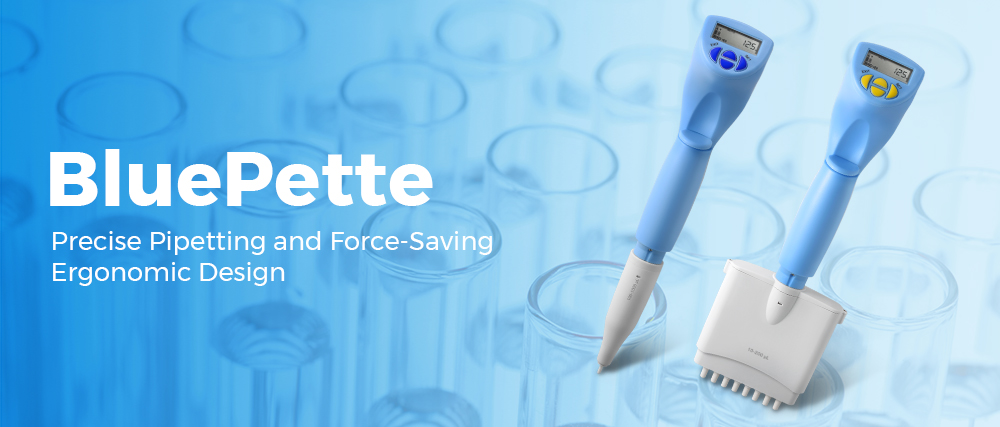 Blue-Ray Biotech Corporation, a professional biotech instrument manufacturer, announced the release of its new electronic pipette product line, the BluePette series. Featuring an ergonomic and force-saving design, the BluePette protects users from the risk of strain and Repetitive Stress Injury (RSI) when conducting various liquid handling tasks. Its efficient and friendly design greatly improves pipetting accuracy and performance. To meet different application needs, the BluePette comes in a wide range of product offerings.
Ergonomic and Force-Saving
Long hours of manual pipetting could cause fatigue and even injury. Now the problem can be resolved by switching to the BluePette electronic pipettes. The biggest difference between traditional manual pipettes and the BluePette is the method used to create a vacuum to retract or propel liquid. While traditional manual pipettes use metal springs, the BluePette adopts high-precision stepping motors and microprocessors to control pipetting volume and speed, which also relieves the thumb from stress. Furthermore, the 360-degree rotatable collar provides the greatest possible positioning comfort.
Efficient and Friendly Design
The BluePette is designed to improve pipetting accuracy and performance. It can memorize up to 9 most-used protocols to save time and increase efficiency. Its versatile functions such as auto pipetting, mixing, multiple dispensing, sequential aspirating/dispensing make users' tedious lab job a breeze. For different liquid viscosity, the BluePette offers 5 adjustable speeds for aspiration and dispensing. Its friendly user interface and easy-to-operate buttons improve user experience. The lithium battery guarantees no leakage and more hours of operation.
A Complete Range of Product Offerings
The BluePette offers single and 8-channel choices, and comes in models for different volume ranges and increments.
The BluePette is available now. For more information about the BluePette please contact your local distributor or visit
About Blue-Ray Biotech Corporation
Blue-Ray Biotech aims to provide global biotechnology researchers with innovative and reliable products to further accelerate the development of biotechnology. We devote ourselves to developing, manufacturing, and marketing cutting-edge equipment that can be widely adopted.
By a perfect combination of our core competencies which are electronics and biological technology, we have successfully introduced superior-performance and high-quality products for liquid handling and DNA amplification and purification. Our product lines include PCR thermal cycler, pipette controller, and micro-centrifuge.
Our company is ISO-9001&ISO-13485 certified. Our facility can handle small quantities and diverse production methods are available to meet different customization needs.
---
Contact
Sales Contact (Greater China, NE Asia, SE Asia, NZ/AU)
Fred Chu
+886-2-8219-1206 # 13
fred.chu@blue-raybio.com

Sales Contact (Europe, ROW)
Tony Chen
+886-2-8219-1206 # 33
tony.chen@blue-raybio.com
Media Contact
Boruei Huang
+886-2-8219-1206 # 14
boruei.huang@blue-raybio.com