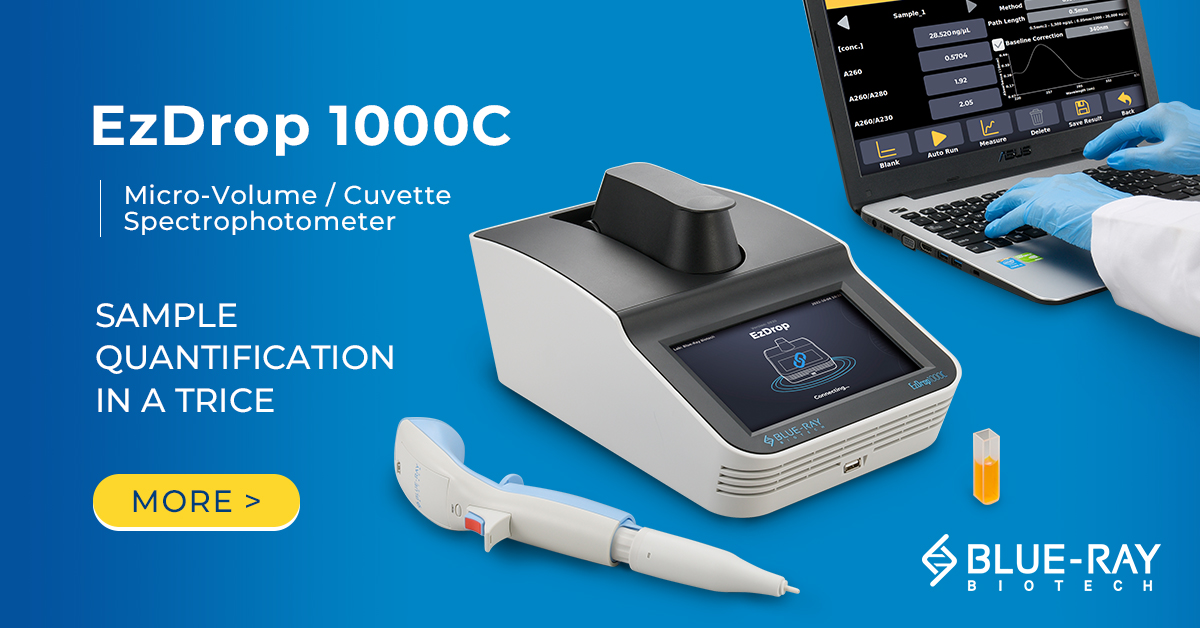 Blue-Ray Biotech Corporation, a professional manufacturer of life science instruments, has introduced the EzDrop 1000C Micro-Volume / Cuvette Spectrophotometer to its Spectrophotometer product lineup. The EzDrop 1000C features a dual sample measurement system of micro-volume and cuvette options, making it suitable for a broad range of applications. Researchers will benefit from its fast and accurate sample quantification results within just 3 seconds, as well as its intuitive touch screen and compatibility with both standalone and PC systems.
The EzDrop 1000C, like its counterpart the EzDrop 1000, quickly evaluates samples in just 3 seconds, boosting laboratory efficiency. It also includes a built-in cuvette capability with temperature control and a stir function, making it ideal for DNA, RNA, and protein quantification, OD 600 measurement, microarray and labeled protein analysis, as well as long-term dynamic change assays, such as kinetics applications. This makes the EzDrop 1000C indispensable for researchers in pharmacology, clinical medicine, and pharmaceuticals.
The EzDrop 1000C's touch screen interface makes it easy to operate, and its assist light design reduces the risk of errors during pipetting. It can be used as a standalone device or connected to a computer for report generation.
"We are thrilled to introduce the EzDrop 1000C to our customers," says Aimee Chu, Product Manager of Blue-Ray Biotech. "Leveraging the proven success of the EzDrop 1000, the EzDrop 1000C delivers improved versatility and ease of use, making it a valuable asset in laboratory setting."
For more information on the EzDrop 1000C Micro-Volume / Cuvette Spectrophotometer, visit https://www.blue-raybio.com/en/category/product/EzDrop-1000C-Micro-Volume-Cuvette-Spectrophotometer
Watch Video
Related News Coverage

SlectScience
Blue-Ray Biotech enhances analytical precision with the EzDrop 1000C Micro-Volume / Cuvette Spectrophotometer
About Blue-Ray Biotech Corporation
Blue-Ray Biotech aims to provide global life science laboratory researchers with innovative and reliable products to further accelerate the development of biotechnology. We devote ourselves to developing, manufacturing, and marketing cutting-edge equipment that can be widely adopted.
By a perfect combination of our core competencies which are electronics and biological technology, Blue-Ray Biotech has successfully introduced superior-performance and high-quality products including PCR thermal cyclers, spectrophotometer, live cell imaging, microcentrifuge and liquid handling products.
Our company is ISO-13485 certified. Our facility can handle small quantities and diverse production methods are available to meet different customization needs.
Sales Contact (Taiwan, Europe, ROW)
Tony Chen
+886-2-8219-1206 # 133
Sales Contact (US, Greater China, NE Asia, SE Asia, NZ/AU)
Andrew Lin
+886-2-8219-1206 # 104
andrew.lin@blue-raybio.com
Media Contact
Boruei Huang
+886-2-8219-1206 # 107