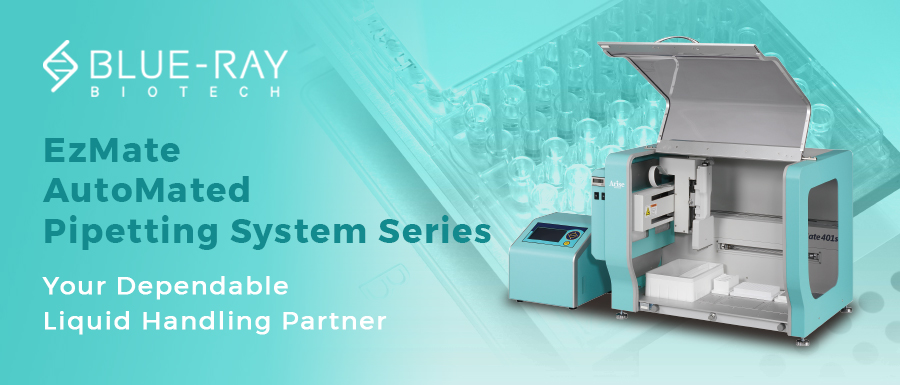 Blue-Ray Biotech Corporation, a professional biotech instrument manufacturer, announced today that it is now a distributor of the EzMate Automated Pipetting System series manufactured by Arise Biotech Corp. With the new distributorship, Blue-Ray Biotech not only can help automate sample preparation but also further strengthen its offerings for qPCR experiments.
EzMate is a series of automated, high-precision pipetting systems specifically designed for low-volume PCR/ qPCR sample preparation that has already won high recognition from users in various research fields, and has been successfully used in numerous cases to optimize the qPCR setup for COVID-19 diagnostic tests. EzMate series comes with different worktable capacity, 1/8-channel pipetting modules and active cooling and heating module options.
By adding EzMate to its product portfolio, Blue-Ray Biotech now provides a complete solution for qPCR experiments, including:

• DNA/RNA Extraction:

• Sample Preparation:

• Real-Time PCR(qPCR):
For more information on EzMate Automated Pipetting System, please visit
https://www.blue-raybio.com/en/category/product/EzMate-Automated-Pipetting-System
About Blue-Ray Biotech Corporation
Blue-Ray Biotech aims to provide global life science laboratory researchers with innovative and reliable products to further accelerate the development of biotechnology. We devote ourselves to developing, manufacturing, and marketing cutting-edge equipment that can be widely adopted.
By a perfect combination of our core competencies which are electronics and biological technology, Blue-Ray Biotech has successfully introduced superior-performance and high-quality products including PCR thermal cyclers, spectrophotometer, live cell imaging, microcentrifuge and liquid handling products.
Our company is ISO-13485 certified. Our facility can handle small quantities and diverse production methods are available to meet different customization needs.
Sales Contact (Greater China, NE Asia, SE Asia, NZ/AU)
Fred Chu
+886-2-8219-1206 # 13
Sales Contact (Europe, ROW)
Tony Chen
+886-2-8219-1206 # 33
Media Contact
Boruei Huang
+886-2-8219-1206 # 14