Evaluate the Performance of Real-time PCR Instruments by Using EzMate 401 Automated Pipetting System
Benefits

EzMate Automated Pipetting System provides μl-level liquid transfers make it suitable to for the performance evaluation of real-time PCR instrument
Improve the reproducibility of evaluation using EzMate Automated Pipetting System
Introduction
The highly accurate and precise EzMate 401 Automated Pipetting System is specialized in handling low-volume pipetting tasks, such as special qPCR experiments, which can be used to evaluate the realtime PCR instrument's performance. In this application note, we use EzMate 401 to prepare a special qPCR experiment to evaluate the well-to-well variation of a real-time PCR instrument
Material
Equipment:
EzMate 401 with APM50-1
Roche LightCycler® 480 Real-Time PCR System
Reagent:
Finnzymes DyNAmo SYBR Green qPCR Kit, # F-415-L
Template:
101bp synthetic DNA with following sequence,
1X working Conc. 1pM:
AAC TTG GCT TTA ATG GAC CTC CAA TTT TGA GTG TGC ACA AGC TAT AGA ACA
CCA CGT AAG ACA TAA AAC GGC CAC ATA TGG TGC CAT GTA AGG ATG AAT GT
Primers:
Forward: AAC TTG GCT TTA ATG GAC CTC CA, working Conc. 300nM
Reverse: ACA TTC ATC CTT ACA TGG CAC CA, working Conc. 300nM
Consumables:
Roche LightCycler® 480 Multiwell Plates 384, # 047729749001
Axygen 50ul Robotic Tip, w/o filter, Non-Sterile, # FX-50-R
Methods
Prepare the pre-mix solution (listed in the table 1. below) in a 1.5 ml tube, and invert the tube several times to mix the content thoroughly (do not vortex the tube).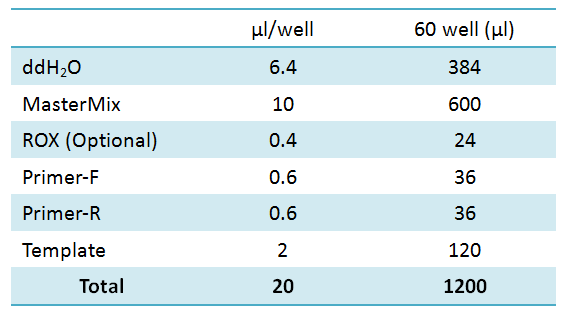 Table1
Use EzMate 401 to dispense 20 μl/well of the premix solution into each well in columns 1, 12 and 24 of a clean 384-well qPCR plate (blue frames in figure 1. below).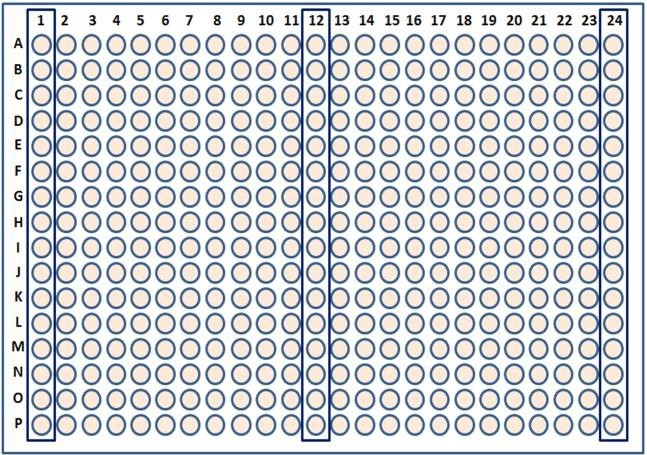 Figure1
After dispensing, seal the plate, gently tap its side and then centrifuge it to remove any bubbles in the well. Run the qPCR experiment under the following cycling conditions: (below, table 2.)

Table2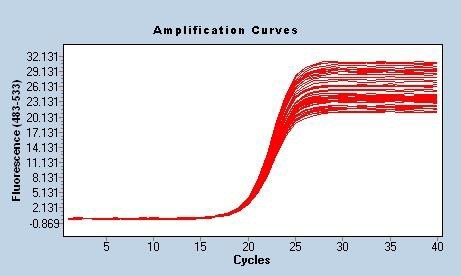 Result
Cp mean = 19.47316854
Cp SD = 0.031756082
Acceptable criteria: SD of Cp should be ≤ 0.5.
The test result indicates that the tested instrument performs well. The variations between wells are very small.
Conclusion
The high accuracy and precision of the EzMate automated pipetting system in μl-level liquid transfers make it a suitable tool to prepare special qPCR experiments for the performance evaluation of any real-time PCR instrument. By using the synthetic oligonucleotide as the target template, users can eliminate potential problems caused by the uncertainty of the natural DNA sample, and improve the reproducibility of the evaluation.
PCR/qPCR Set Up Related Applications
---
Learn More About EzMate Automated Pipetting System
We offer customized solutions to suit your experiment need, contact us for further discussion.